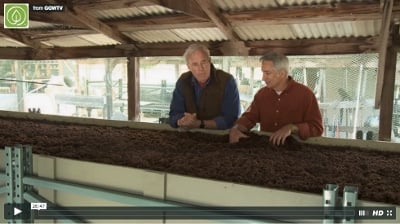 Many thanks to Urban Worm Blog reader Ed for directing me to this episode of PBS' Growing a Greener World. Host Joe Lamp'l visited Jack Chambers of Sonoma Valley Worm Farm to give the viewers some great insight into vermicomposting. While the episode is recent, the interview itself dates back to 2010. But content like this can't be replayed enough!
Jack's story is pretty interesting. He's an airline pilot by trade who fell into vermicomposting after visiting a worm farm and befriending the owner, who ended up selling Jack his farm and surrounding land in 1992. Jack modernized the process using custom-made flow-through reactors and a nifty forced air composting system for pre-composting his "food," cattle manure from a nearby dairy farm.
Jack now sells his castings to growers near and far and uses the castings on his own vineyard. And he's convinced the benefits of the castings manifest themselves in tastier wine.
As for Growing a Greener World, they've done several write-ups on vermicomposting, to include a very positive review on the Worm Factory 360™. Joe Lamp'l actually has several bins in his basement, so here's hoping worm composting keeps getting top billing on PBS!
More please!