Welcome to the Urban Worm Company's Bulk Worm Castings Buyer's Guide!
If you're a grower or soil mixer looking to procure a larger – but high quality – source of worm castings than you could find on the shelves at Home Depot, then this guide is for you.
The guide below will define what we mean by "bulk" worm castings, outline who buyers of bulk worm castings tend to be, what you would pay for bulk worm castings, and what to expect in terms of shipment. We'll also talk about quality in worm castings.
---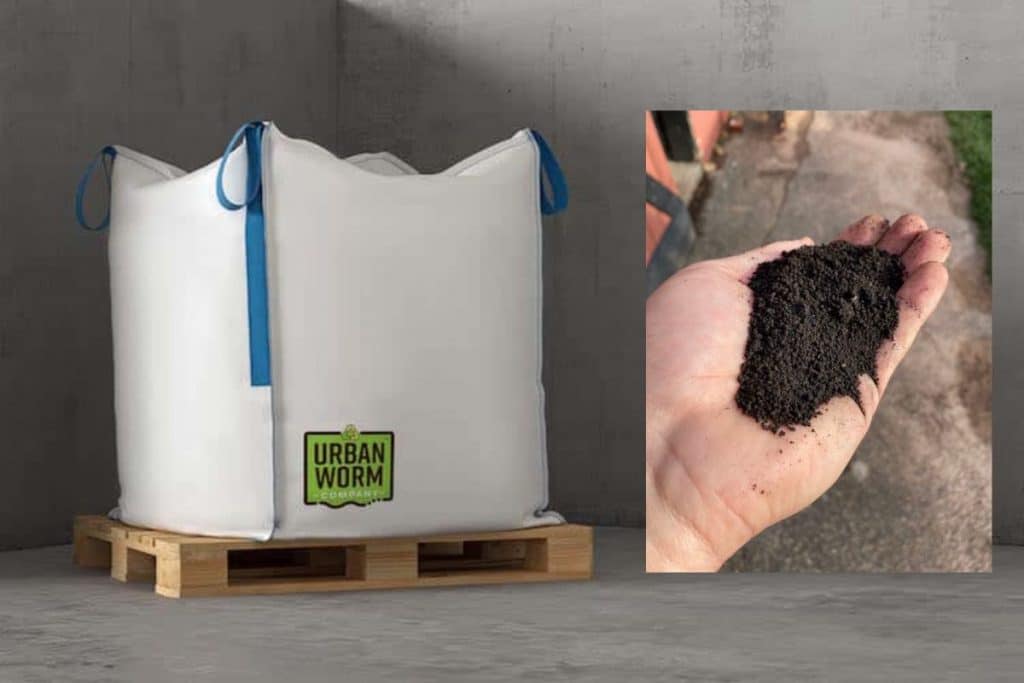 The Urban Worm Company is proud to offer bulk worm casting totes delivered anywhere in the lower 48 for as low as $675 in quantities from 1000 lbs through 2250 lbs.
Please e-mail us for loads of more than 3 totes up to a flatbed truck. We'd love earn your business!
For a limited time, we're offering a 42,750 lb truckload deal at $9999 plus freight. Get in touch for a quote to your location!
---
What Are "Bulk" Worm Castings?
For the purposes of this article, assume that bulk worm castings are an amount that would be impractical or cost-prohibitive to ship via parcel services like FedEx or UPS. This quantity typically starts at 1/2 of a cubic yard which is roughly 500 lbs of worm castings.
Bulk deliveries can also include dump trucks delivering 30 cubic yards or more of loose worm castings. But we'll assume most bulk deliveries to individual or small-business buyers will arrive in bulk bags, also called totes or "Super Sacks."
Who Buys Bulk Worm Castings?
While a backyard gardener might receive bulk topsoil from a local garden supply store, most bulk buyers of worm castings will be businesses who intend to mix their worm castings with other ingredients to produce a premium soil for organic gardening or growing high-value crops like cannabis.
Boutique Sellers of Premium Soils
As our knowledge of soil increases, so has the number of boutique or designer soil sellers.
Most premium soils will include worm castings, and high-end "dirt merchants" either produce their own worm castings or are regular buyers from trusted bulk suppliers.
As bulk soils are still relatively inexpensive, bulk buyers of worm castings tend to be quite price-conscious.
Cannabis Growers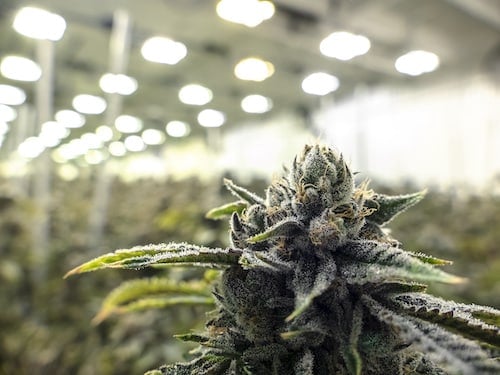 The proliferation of cannabis growing across the United States has boosted demand for worm castings, especially in states like Colorado, California, Oregon, Washington, Oklahoma, Michigan, New Jersey, New York, and other states who have fully legalized marijuana.
Just like the soil businesses mentioned above, soil-based cannabis growers are thirsty for custom-mixed soils which will often include ingredients like feather meal, kelp meal, bat guano, peat moss, coco coir, perlite, and of course, worm castings.
Organic Gardeners and Garden Groups
Hardcore organic gardeners and local garden clubs can be buyers of large amounts of worm castings.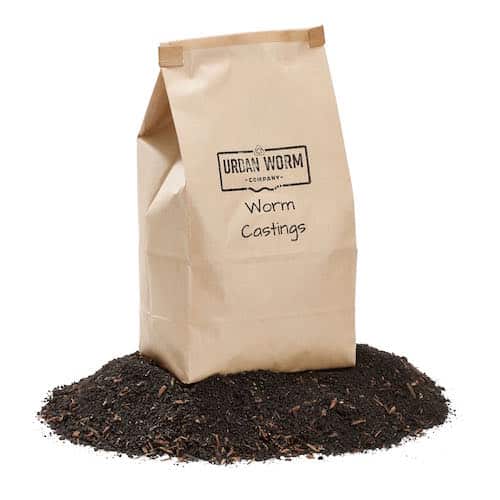 Although worm castings tend to be no more than 20% of a growing medium, a collective of gardeners may generate enough demand to warrant a bulk purchase.
Worm Castings Resellers
Purchasing worm castings in bulk allows some resellers to repackage and sell in smaller quantities. For instance, a reseller could purchase from us for around 45 cents per pound delivered – or cheaper! – and then resell in small quantities at farmer's markets for $5 per pound or more.
---
If you're interested in selling worm castings, make sure to check out our Business Resources Page!
We've got links to tons of free content, interviews with experts, how to become an Urban Worm reseller and links to paid memberships like the Worm Farming Alliance.
---
How Much Does a Ton or a Cubic Yard of Bulk Worm Castings Cost?
The cost for bulk worm castings varies regionally. The final price you'll pay depends on 3 things:
the price of the worm castings themselves
how far the castings need to be shipped
whether the final destination is a business with a loading dock or a residential address which needs a truck equipped with a lift gate for offload
The Price of Bulk Worm Castings
On a per-cubic-yard basis, the price will range from $225 to over $800 before shipping. Larger worm castings producers – especially those who can vermicompost outdoors – can achieve economies of scale that will greatly lower unit costs to the end buyer.
A large outdoor vermicomposter or worm castings supplier can be profitable in the $225 to $400 range. But a smaller indoor supplier might need to receive $600 per cubic yard or more to have a viable business.
We are proud to offer bulk worm castings for less than $1000 per ton or $600 per cubic yard. This price includes delivery and we offer bulk discounts for multiple-tote orders!
The Cost of Shipping Worm Castings in Bulk
Whenever possible, picking up bulk worm castings in person can provide significant savings.
However, most of the country does not live close to a larger producer of worm castings.
Even if they did, they may lack the equipment to haul the bulk product away.
If this isn't an option for you, then your worm castings will likely ship via LTL, or "less-than-truckload" freight, whether that be one or more pallets.
Most bulk worm castings sellers do not include shipping in their prices (we do!) and this can provide a buyer significant sticker shock during the checkout process.
The cost of shipping is normally related to the distance between the seller and the buyer.
But don't assume that an intrastate shipment will be cheaper than a longer haul.
For instance, a recent quote shows that shipping a pallet of worm castings from Eureka, CA to San Diego would cost a little over $490 where the same pallet shipped to Peoria, IL would cost nearly $50 less for a much longer distance.
Commercial Vs Residential Locations on Cost of Shipping
While distance is usually a factor in shipping cost, the type of destination – and whether a liftgate is required – will always impact your final cost.
Trucking companies do not like serving residential areas, either for pickup or delivery.
The narrow streets, the parked cars, the inexperienced freight shippers and receivers, local ordnances, etc make shipping freight to a residential area riskier to the trucking company and more expensive for you.
And nearly all residential deliveries require a truck equipped with a lift gate in order to lower the pallet to street level.
Assuming you plan to receive a single pallet, expect an additional cost of $150 to $175 for delivery to a residential address with a liftgate-equipped truck.
Total Shipping Cost of One Pallet of Bulk Worm Castings
For commercial locations with a loading dock or a forklift, assume a minimum cost of $990 minimum for a 2-cubic yard, 2000-lb pallet of bulk worm castings in a SuperSack. This assumes a little more than $300 per cubic yard of worm castings plus another $300 in shipping costs.
For residential customers who need a lift-gate-equipped delivery truck, assume at least $1000 on the low end from most sellers.
It's important to note that shipping cost of a pallet does not scale linearly.
For example, a recent quote from Wisconsin to Philadelphia showed a price of $382 for a 1000 lb pallet of worm castings but only increased to $474 for a 2000 lb pallet.
Two pallets will also likely be less than double the cost to ship a single pallet.
Judging Quality in Worm Castings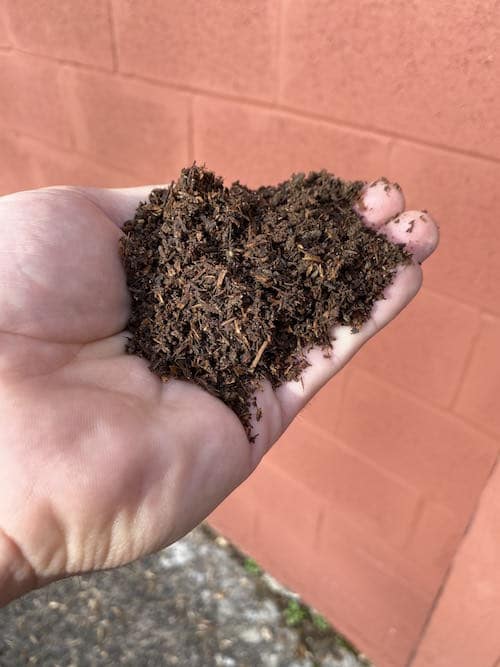 This is a tough one.
Worm castings can feature a wide range of potential enhancements to soil. They can improve water retention and soil structure. They can boost pest and pathogen suppression of plants. And worm castings can feature massive populations of nutrient-cycling microorganisms.
But different plants have different needs depending on plant species, the stage of growth, and the quality of the other soil ingredients. So unfortunately, there is not one single standard of quality that can be applied to worm castings.
Worm Castings Tests
But if you know what you're looking for, a worm castings seller will be able to provide test results from a certified lab and a sample. At a minimum, these tests should measure the following:
percent solids
organic matter
pH
soluble salts
total nitrogen
phosphorous
potassium
total carbon
carbon-to-nitrogen ratio, also called C:N.
Worm castings will not feature high levels of macronutrients like synthetic fertilizers. More advanced tests may also include less-essential nutrients like magnesium, manganese, aluminum, zinc, and others.
Further testing from labs like Earthfort will measure the presence of beneficial soil microbes like bacteria, fungi, protozoa and nematodes. The same test might verify the absence of fecal coliform and other pathogens.
Check Out the Test Results for Our Bulk Worm Castings
Our product page offers both a standard compost analysis plus a biological analysis from Earthfort!
Consistency and Standardization of Bulk Worm Castings
It's one thing to get a single test result.
It's quite another to be confident that the castings you bought today will be the same as the ones you bought 6 months ago. Larger worm castings suppliers are likely – though not guaranteed – to have consistent production methods and feedstock for the worms.
Look for descriptions of production methods on supplier websites and what their feedstocks are. Expect most large worm farms to use consistent animal manures, pre-consumer food waste, or mixtures of peat and grain.
Smaller composters who feed their worms post-consumer food wastes may very well have high-quality worm castings.
But due to the variability of post-consumer food waste, the castings consistency may vary over time.
Buying the Correct Castings for Your Plants or Trees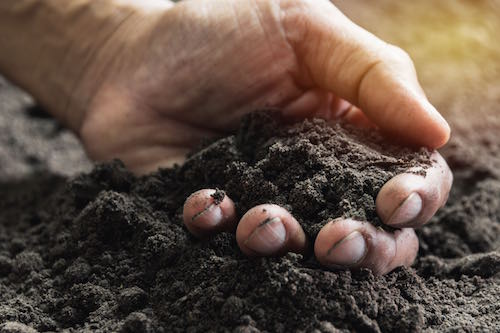 The microbiology present in high-quality worm castings should effect how the worm castings are ultimately in used in your gardening or growing operation.
Plants on the lower end of the plant succession model – such as typical garden crops and perennial herbacious plants – will respond better to a bacterial-dominant vermicompost.
But plants like shrubs and trees – which are higher on the plant succession scale – need a more fungal vermicompost.
Bulk Worm Castings: Available Through the Urban Worm Company!
We don't have a large operation here in the Philadelphia area.
But we have access to large quantities of low-priced – but high quality! – bulk worm castings from our producers.
For full flatbed deliveries, we can get you pricing as low as $600 per ton, delivered. Contact us for a quote today!